No Spoilers for either show. Read away!!
Two great shows, one which seems to be nearing its long run, and the other coming to the pre-determined end of its short but amazing run.
The season poster gives you some idea of just how trippy this
show, and particularly this season, can be.
Legion, season 3 (2019)
One of the most amazing TV shows I've seen in years, and easily the very best show or movie inspired by comic book "superhero" characters.
At this point, virtually every human on earth is aware of Marvel Studio's total domination of the box office, via the Marvel Cinematic Universe (MCU) and, until recently, the X-Men series. Even smaller properties like
Deadpool
have raked in cash. When it's come to their TV shows, however, there hasn't been nearly as much success. The handful of shows on Netflix, such as
Daredevil
and
Jessica Jones
, have been mixed bags. They've also focused a few shows on even lesser-known characters, such as Cloak and Dagger and Runaways. But no greater leap was taken than when they greenlit a show about a somewhat obscure character from the X-Men comic books of the 1980s and '90s: David Haller. David, also known as "Legion," was the son of immensely powerful telepath Charles "Professor X" Xavier. David was also an incredibly powerful telepath, as well as being a telekinetic of such strength that he could essentially alter nearly all of reality. The terrifying part of all of this is that, in addition to his awesome powers, David was also wildly schizophrenic.
David Haller is hardly the type of character around whom Marvel Studios had built commercial success, so it seemed like an odd longshot to be any sort of winning show. But when the show was given to Noah Hawley and the FX network, magic happened. Hawley, who had won over my massive skepticism with the dazzling work on the TV show
Fargo
, has done something with
Legion
that will be extremely difficult, if not impossible, for other "comic book" shows to equal or top. He has utilized so many aspects of the audio-visual medium of television and crafted a dazzling, poetic, and often beautifully artistic story that is as touching as it is fantastic.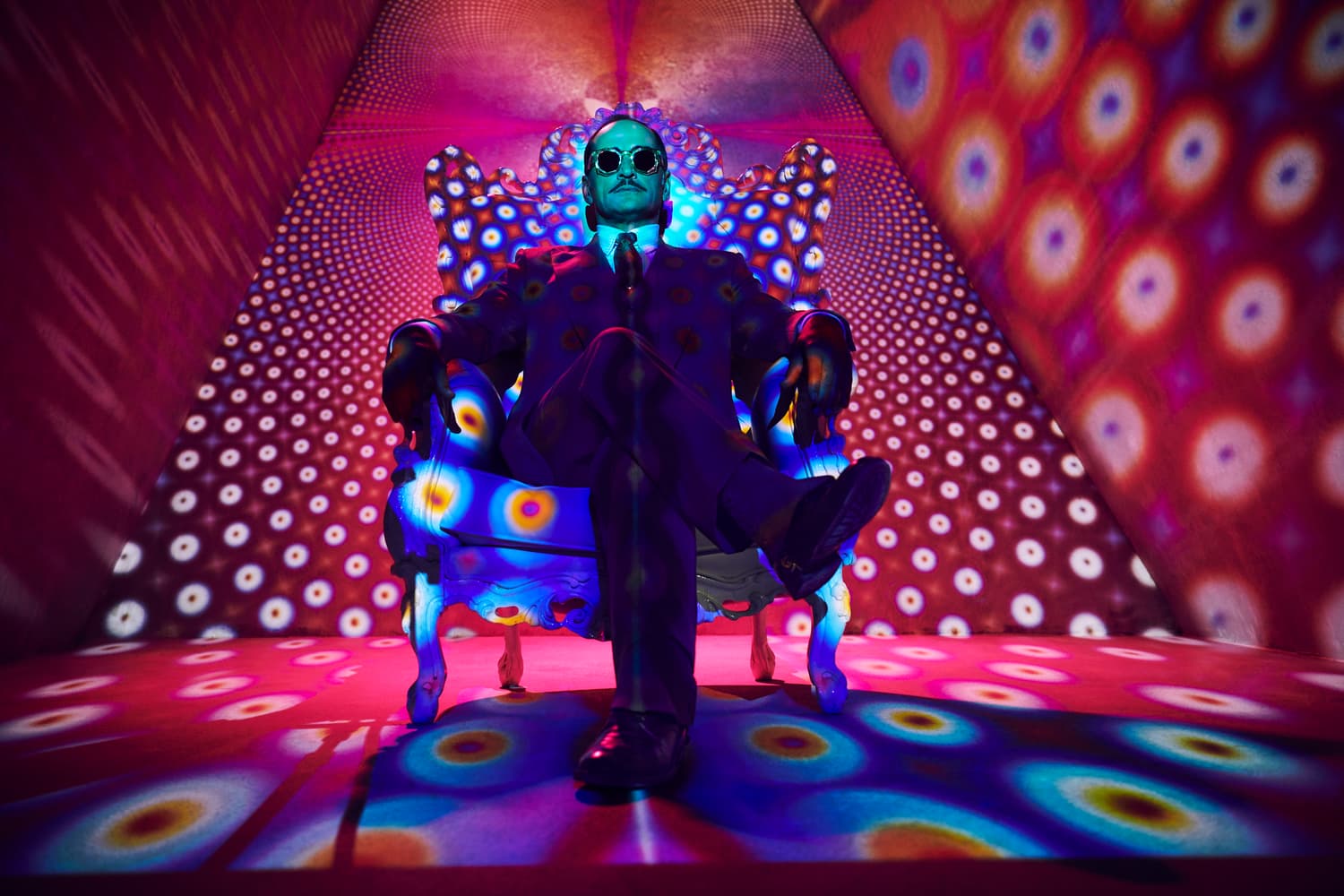 Amahl "The Shadow King" Farouk returns, though whether
he is an ally or arch-enemy to humanity remains unclear
right up until the final moments of the entire series.
With this third and final season of
Legion
, we get the completion of the bold and emotionally powerful tale of David, as imagined by Hawley. Through the first two seasons, we see David learn of his immense powers, as well as the fact that he has been harboring the psychic manifestation of Amal Farhouk, an entity known as "The Shadow King" - another mutant with abilities on par with David's. We have also seen Farhouk's "exorcism" from David, and their race for Farhouk's long-buried body. This final season follows David's erratic and reality-bending attempts to undo the damage which he and Farhouk's battles have caused, all while Farhouk constantly turns the tables and plays multiple sides against each other to aims uncertain to everyone, including us viewers. The primary addition to this season was that of the character Switch - a time traveler whom David recruits to help him in his quest to right past wrongs. As you can imagine, this begins to further complicate matters, and it all comes to a complex resolution.
This being a spoiler-free review, I will not get into any details. It would be a great disservice to this show to give anything away, as I felt that one of the great joys of it was waiting to see how its many enigmas and knots revealed and untangled themselves. And make no mistake - this show demands patience and close attention; probably more than nearly any prime-time show out there, and definitely far more than any comic book show has every dared. Certain images appear and actions take place which will leave one baffled; that is, until one, two, or several episodes later when the connections are made clear. And there are more than a few visual and cinematic flights of fancy that are part of the proceedings. These include vibrant, psychedelic dream sequences and even a couple of song-and-dance numbers. I'm normally not one for the latter, but my musical sensibilities seem to align with Noah Hawley well enough, so I was happy to drink in these sequences.
Like previous seasons, this one shows dazzling creativity in terms of narrative structure and horror concepts. Without giving anything away, I can simply say that the Time Eaters are some of the most visually creative, terrifying things I've seen on a TV show in ages. And while using time travel is a tired sci-fi plot device in nearly every case at this point,
Legion
actually does more than a few wonderfully novel things with it. Things that actually make artistic use of the audio-visual medium of television in ways that I've never seen before.
But the thing that put the show completely over the top for me - the thing that had me getting choked up multiple times during the final episode - is the resolution and how daring it was. Again, no spoilers here, but I cannot think of any comic book-inspired film or TV show, or many TV dramas for that matter, which have shown the guts and heart that
Legion
did in its finale. Far too many shows take the easy route of offering resolutions that don't challenge us viewers with something different and thought-provoking.
Legion
does just that, and it is an infinitely greater show for it.
And so ends what may go down as the very best comic book show in history. If any show or movie manages to top it, I only hope that I'm around to see it.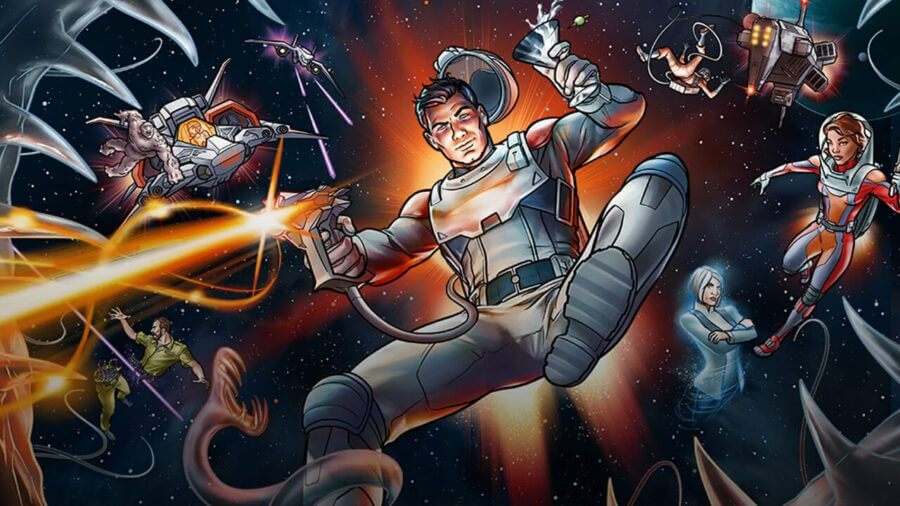 Archer, season 10 (2019)
Another amusing "fantasy" season of
Archer
, though one that I'm happy to say seems to be the last in the "Archer Coma Dream" arc of seasons.
At the end of season 7, Archer was sent into a coma, thus kicking off a series of seasons which take place completely inside Sterling Archer's coma-imprisoned brain. Season 8 saw all of the characters placed in a world of film and literature
noir
of the 1940s and '50s, and season 9 took its setting and plot elements from the exotic action/adventure tales popular in the 1920s and '30s. In this season, the gang is sent into a completely different genre - that of science-fiction. Dubbed "Archer 1999," it uses many of the elements seen in popular sci-fi action movies, most obviously
Alien
, but also including tons from other well-known and lesser-well-known sci-fi TV shows and films such as
Battlestar Galactica
,
The Herculoids, Forbidden Planet
, and tons of others. A bit more in keeping with the earlier, "real" seasons, this season doesn't have a single plot thread that runs through all episodes, being rather a collection of self-contained episodes.
This season was pretty fun. Moreso, I found, than the previous "
Danger Island"
or
"Dreamland"
seasons. Those was were amusing, to be sure, but I found
1999
to be a bit more consistently funny and even more creative from episode to episode. These "coma" seasons have always had fun in taking regular cast members and thrusting them into new roles of varying zaniness, but
1999
probably had the most entertaining and spot-on re-imaginings of everyone, whether it was Ray Gillette taking on the "courtesan" role as inspired by
Firefly
or the mad scientist Krieger as an android obviously inspired by Ian Holmes's deranged synthetic in
Alien
, the writers set themselves up to have a blast.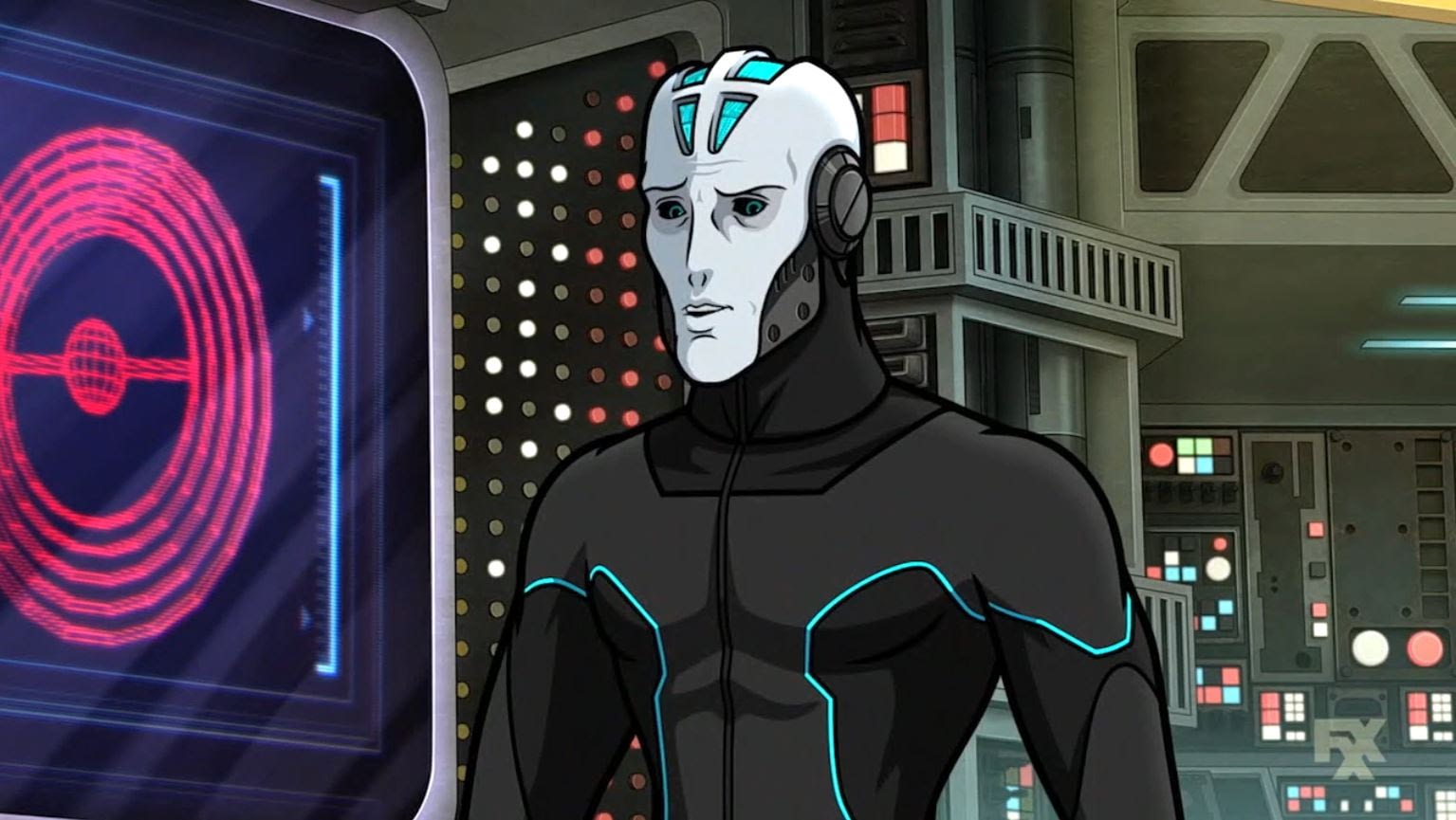 Mr. Deadly - the title character from my favorite episode. With
a combination of great comedy writing and hilarious voice
acting by Matt Berry, this was one of the best Archer episodes
I had seen in several seasons.
The individual stories, while rarely living up to the best episodes of the first several seasons of the show, are solid. My particular favorite was episode 5, "Mr. Deadly Goes to Town," in which the crew discover a robot which is actually a walking, talking doomsday device voiced brilliantly by Matt Berry, whom I know and love from the
What We Do in the Shadows
TV series. This was the standout episode for me, but nearly all of the others gave me some good laughs, even if some of the standard gags in the
Archer
series have long since been a tad played out.
The show has been renewed for an 11th season, beginning this September, which I'm glad to see. But not as glad as knowing that it is finally, after over three years, returning to the "reality" of having Sterling and his cohorts back in the real world, being humans and presumably getting back to their cartoonish approach to being some sort of spy organization.