Better Call Saul, season 3 (2017)
Slippin' Jimmy just keeps on slippin'. And it's a pretty captivating journey.
In the third season of the prequel series to
Breaking Bad
, Jimmy McGill (later Saul Goodman) is in full defense mode against his older brother, Chuck. In the previous season, the two brothers were engaged in warfare in the form of Jimmy (Bob Odenkirk) sabotaging one of Chuck's big cases so that his girlfriend, Kim, could score the case for herself. This act of underhandedness escalated into Chuck suffering a nasty concussion and Jimmy getting arrested for breaking and entering Chuck's home. As Jimmy fights for his legal career, his acquaintance Mike Ehrmentraut gets a bit deeper into a local turf war between powerful drug distributors from south of the border but who have staked claims in this part of Albuquerque.
This show continues to impress and amaze me on many levels. Primarily, it is that, like
Breaking Bad
, the protagonist is simply not a good person. However, unlike the show which spawned in,
Better Call Saul
's primary character does have some redeemable qualities. Jimmy is quite loyal, extremely hard-working, and has goals that are admirable in their modesty. He basically just wants to make a decent living, have a nice girlfriend, and get along with his brother. His problem is that he is a natural-born con-man who can't seem to help but look for angles and shortcuts. For as many tough spots as his cleverness and charisma get him out of, his disrespect for hard-and-fast rules just send him right back down towards the turf. In this particular season, his relationship with his brother Chuck deteriorates even further, as the incidents that ended the second season continue to fester and spawn deeper, darker problems.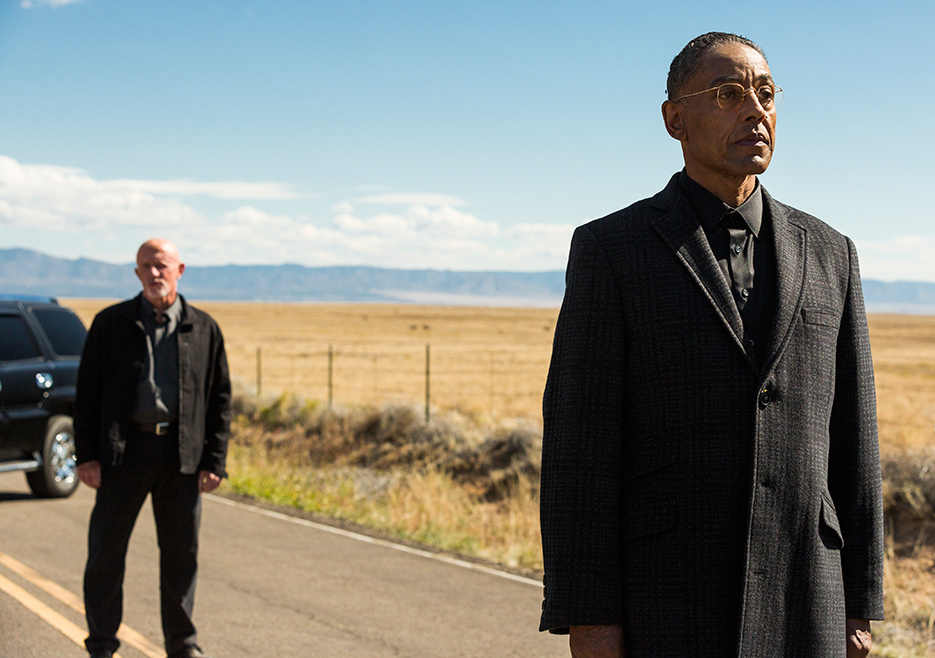 Mike and Gus Fring - two of the strongest characters from
Breaking Bad, who also have more screen time in this season.
It's a double-edged sword, offering plenty to fans of the
earlier series but taking a bit of Saul's autonomy away.
This might have been the best season yet. Admittedly, it starts to lean even more on one's knowledge and presumed appreciation for
Breaking Bad
, more of whose characters appear and start to have gradually more prominent roles, regardless of Saul's direct involvement. This is the first season in which is really and truly has evolved into a prequel series for that hit show, rather than be a series almost exclusively about the back stories of two of the more fascinating supporting characters. Part of me feels that it does devalue the title character a bit, but fortunately the diminishment is minimal. It also helps to know that it is ultimately building a stronger bridge to span the distance between this series and the original.
I was late to the
Breaking Bad
party, only watching it once the final season had come out back in 2013. I figured that I'd rewatch the series again at some point, but it hadn't arrived yet. This latest season of
Better Call Saul
, though, now has me ready to go back and binge watch the entire 60-odd episode series. That's how good show creator and runner Zack Gilligan is at doing something original and engaging in modern television drama.
Nikki and Ray. These two seem to be the primary villains in
this season, but eventually become much more endearing.
Far from innocent, to be sure, but endearing.
Fargo, season 3 (2017)
Make it three-for-three for Noah Hawley. This third season was another brilliant one for this show about which I was quite skeptical back when its existence was announced. Though I would rank it the third best of the first seasons, it still features many of the strengths that make this underdog series a singular success.
This season takes place mostly in 2011, five years after most of the events of the first season and roughly 33 years after the flashback second season. It concerns a string of murders surrounding a pair of brothers - Emmett and Ray Stussy - who have a long-standing if often unspoken fued over older brother Emmett's immense success as a parking lot mogul in the greater Minnesota area. Things grow infinitely more complicated when a shady and manipulative character, V. M. Varga, turns up as a sinister source of dark funds for one of Emmett's capitalist ventures. The skulduggery commences, with a humble but capable and dedicated local police chief, Gloria Burgle, trying to suss out who's to blame for the carnage.
The broad strokes and general tone of the series are very much in keeping with the first two seasons. There is a darkness looming over or lurking underneath much of the story, despite the sometimes pleasant settings or ostensibly polite and goofy characters. The three primary archetypes laid out by the movie and maintained through the first couple of seasons still holds true: an overly ambitious loser, a thoroughly vicious villain, and a steadfast cop. In this season, all three versions are strong incarnations of these types, and each is a curious variant of what has come before. Ray Stussy's relationship with his ex-con girlfriend Nikki has a welcome touch of genuine sweetness to it. Yes, Ray is a helpless loser, but unlike Jerry Lundergaard, Lester Nygaard, or Peggy Blumquist, he is not completely self-absorbed, as evidenced by his dedication to Nikki. The villain, Varga, is clearly the "dedicated psycho," as one friend put it, though one that is a fascinating commentary on modern greed and intellect. And Gloria Burgle at first seems similar to Fracis Mcdormond's legendary Marge Gunderson, but we soon see how her character represents something more than just a skilled female smashing her head against a glass ceiling. These similar types, tones, and themes have become the welcome connection between the three seasons, aside from the fact that they do take place in the same fictionalized version of the Dakota regions.
V.M. Varga. Don't let the unassuming appearance fool you.
This guy is as dangerous and twisted as any of the other
maniacs and murderers who have populated the Fargo series.
Beyond the familiar elements, though, is a gripping crime and thriller tale. As with the previous two seasons, things get a bit bloody early in the proceedings and only get more gruesome and tense as the season unfolds. There are plenty of great sequences and moments. One that comes to mind is episode 8, with Nikki and an old familiar face fleeing into the frozen woods from a trio of ruthless assassins. It takes up the first 15 to 20 minutes of that episode, and it is as brilliant and brutal as anything that the series has given us. This and plenty of other moments, both familiar and utterly odd, create yet another distinctive tale revolving around human vices put into overdrive and situations gone horribly wrong.
Now that I've fully caught up on the entire series (which I did over the course of around two months), it won't be long before I go back for a complete re-watch. The prospect of plunging back into the dark, twisted, and often amusing world of these characters is still exciting, despite the roughly 25 hours of running time for the entire series. And that's about as high a praise as I can offer any show.